Why do some celebrities look so bizarre after plastic surgery?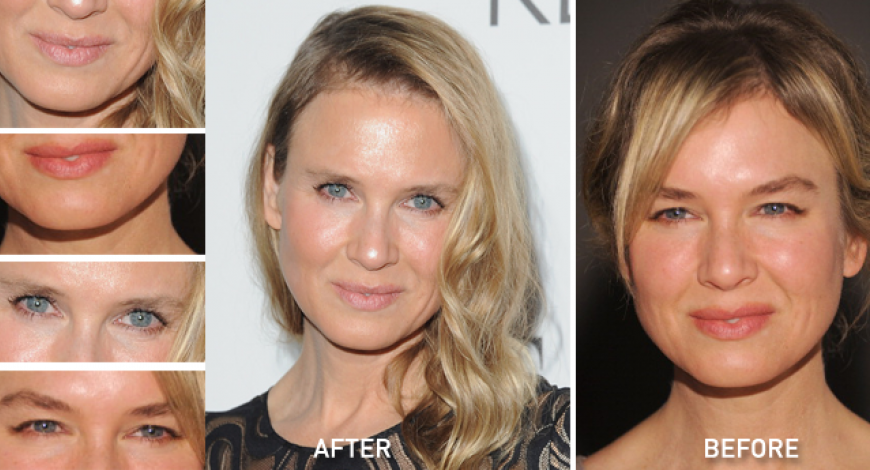 I was recently asked this question on RealSelf and it forced me to consider why so many of the most prominent celebrities have such objectionable plastic surgery results. First off, we're naturally biased because we are only aware of those who look like they've had work done. We're completely unaware of those celebrities who have had good plastic surgery as they look natural. We're left to wonder what those individuals do to keep looking so good. Is it Botox and filler? Good genes? Great product? Ultherapy? Laser resurfacing? Sun avoidance?
The bottom line is that if surgery is planned well and performed properly the results look natural and the changes slip below our radar. As a result, people with great results just look beautiful, rested and youthful.
However, there is an ever expanding list of celebrities who look "done" and unnatural after both surgery and extensive non-surgical treatments. It is difficult to explain why some have achieved such unnatural and "scary" looking results. This is truly a paradox as LA and New York based celebrities have plenty of disposable income, time and proximity to a dizzying number of plastic surgeons. It is anyone's guess why some A-list celebrities wind up chasing unreasonable or unwise changes to their appearance. It could be that their aesthetic goals are unreasonable or that the advice that they receive from their surgeons is flawed. We'll never know.
Rather than trying to answer this impossible question, I'd prefer to help you avoid the same fate. Not a day goes by that I don't discuss this exact question with at least one of my patients. I think that this speaks to the need to seek highly experienced facial surgeons who consistently create natural looking results. Rather than seeking out the local "plastic surgeon to the stars", the key criteria should be your surgeon's skill and results. There are many highly trained and skilled plastic surgeons in any mid-size to large city. The key is to seek out a surgeon who you trust and that creates natural results.
The following should serve as a starting point for choosing the right surgeon for you:
Consult with a Board certified Facial Plastic Surgeon (ABFPRS) or Plastic Surgeon (ASPS):
The American Board of Facial Plastic & Reconstructive Surgery offers a very helpful surgeon locator
Consult with expert Plastic Surgeons who focus on the area of the face that concerns you:
No surgeon can be an expert in all disciplines of plastic surgery. Some perform expert facelift and rhinoplasty procedures while other focus on breast and body procedures. Seek out an expert that focuses on your procedure of interest.
Consult with surgeons in good standing with the state medical board:
Each state has a medical board website that will reveal your surgeon's standing with the medical board. Ensure that there are no ongoing or prior board actions of concern.
Seek out a surgeon with local hospital privileges:
This is one more step in the vetting process that is performed by the local hospital administration. Prior to granting privileges, they review a surgeon's training, credentials, surgical experience, reputation and background. Surgeon's who meet the hospital's strict criteria are granted admitting or surigcal privileges.
Research online reviews:
You want to research the trend of patient reviews for potential surgeons. While none of us can keep everyone happy all of the time you want to ensure that the vast majority of your surgeon's reviews are positive. Perfection is an impossible goal but you want to know that your surgeon cares and does their best to do right by their patients.
Ensure the surgeon has performed at least 150 of your procedure(s) of interest:
Nothing trumps experience. While an appropriate residency and fellowship will ensure that your surgeon is competent in their field of expertise, you want to seek a surgeon who has performed a given procedure at least 150 times. Yes, this is an arbitrary number but it typically represents at least 5 years of experience for a surgeon focused on your procedure of interest. When it comes to your face you want to entrust an expert.
Meet the surgeon, their office staff and ensure that they care for you and that you trust them:
Ensure that your surgeon and their patient coordinator take the time to answer all of your questions. If you feel rushed or if you feel that your individual concerns are not taken seriously, this should be a warning sign. If you're feeling rushed or are being pushed too aggressively this will not get any better once you've scheduled a procedure or following surgery.
Review their before and after slide deck extensively:
Not only do these photos highlight the type of work that your surgeon is capable of but they also reflect the aesthetic that your surgeon seeks to create. If you see results that are extreme, bizarre or overdone this should be a red flag.
Lastly, trust your gut:
If you leave the office with a nagging feeling that something is "off" repsect your intuition. This might mean that you've picked up on something that just wasn't right. That sense is there for a reason and should be respected. Alternatively, if you've seen several surgeons and still feel that something is not right you might just not be ready for surgery. If this is the case, respect your intuition and give yourself time to digest all of the information you've just received.
The consultation journey needs to be individualized as we all have unique personalities and individual goals. I hope that this brief article will give you a basic framework to approach the process. While not mandatory, don't be surprised if you need to meet with 2-3 surgeons before you find the ideal match for you and your goals. I would be happy to help you with this process in any way that I can. We would be honored to have the opportunity to meet with you and assist you with your Facial Plastic Surgery journey.